Still waiting for your perfect wintry read? Try this cosy, crime mystery set in England's most haunted castle in Northumbria and written by international bestselling author, L J Ross.
From the Blurb
DCI Ryan and his team of murder detectives are enjoying a festive season of goodwill, mulled wine, until a freak snowstorm forces their car off the main road and into the remote heart of Northumberland.
Their Christmas spirit is soon tested when they're forced to find shelter inside England's most haunted castle, where they're the uninvited guests at a 'Candlelit Ghost Hunt'.
It's all spooky, fun and games—until one of the guests is murdered. It seems no mortal hand could have committed the crime, so Ryan and Co. must face the spectres living inside the castle walls to uncover the grisly truth, before another ghost joins their number…
Murder and mystery are peppered with romance and humour in this fast-paced crime whodunnit set amidst the spectacular Northumbrian landscape.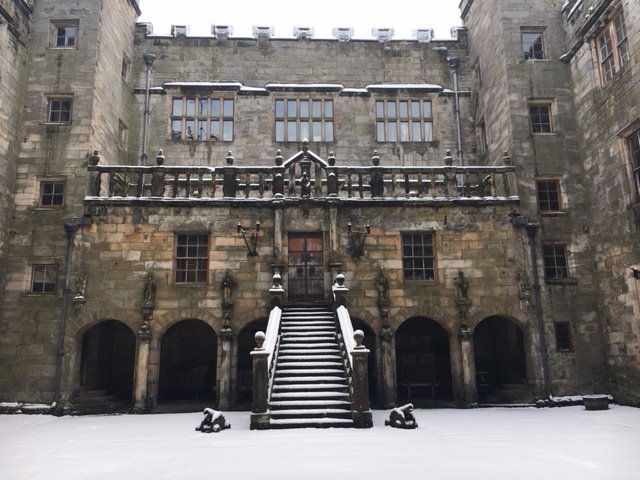 My Review
Ryan's Christmas is a real treat! It reads as a traditional whodunit, in the style of Agatha Christie, unlike the other DCI Ryan Mysteries.
It is an atmospheric and compelling crime novel, set in an authentic, 12th century castle in the north of England, which is in my bucket list to visit asap!
It was thriling to see the main characters of the series (DCI Ryan Mysteries), solving a crime at Christmas, while stranded in a spooky castle! It's book 15 in the series, so plenty of crimes have been solved and the characters have taken on a life of their own!

But don't worry if you haven't read the previous 14 books (I haven't read them all, yet!), the best thing is that Ryan's Christmas can be read as a standalone by readers who haven't read any of the previous books, although no doubt if you read this novel you'll want to read the previous books in the series!
What can I say, I love all the characters, especially Ryan, who is the perfect gentleman and police inspector, admired by all his staff, and Anna, his wife,whom he met in book 1, Holy Island, a scholar of local, ancient history and lecturer at Newcastle University.
Ryan's Christmas is especially for lovers of well-written, cosy, crime mysteries, set in the UK, in winter.
LJ Ross is an international bestselling author, best known for creating atmospheric mystery and thriller novels, including the DCI Ryan series of Northumbrian murder mysteries which have sold over four million copies worldwide.
Her debut, Holy Island, was released in January 2015 and reached number one in the Amazon UK and Australian charts. Since then, she has released a further fourteen novels, all of which have been top three global bestsellers and twelve of which have been UK #1 bestsellers.