This post was written in response to Linda Hill's weekly Stream of Consciousness Saturday prompt. Follow the link on the banner for more information!
This weeks prompt is"fab." Linda Hill says, "Use it as a word or find a word beginning with "fab." As always, use any way you'd like. Have fun!"
****
I'm going to ramble about two fabulous, stream of consciousness novels.
The first novel is Mrs Dallaway, Virginia Woolf's unforgettable and inspiring masterpiece, which takes place in one single day in the month of June, in the early 1920s, shortly after the end of WWI.
Mrs Dallaway (Clarissa) is preparing an important society party while her thoughts come and go in diverse directions and timeframes in erratic flashbacks, as the reader discovers Clarissa's unhappy marriage, the childhood sweetheart she loved but didn't marry, her insecurities as a society wife, her bisexual tendency's, and social issues, such as postwar depression and traumatized war veterans.
It's a novel without a specific plot, in which nothing 'important' happens during the specific day, except the preparation of the party, and yet everything that's happened in Clarissa's life passes through her mind in that single day.
The protagonist is struggling unsuccessfully to find meaning in her life.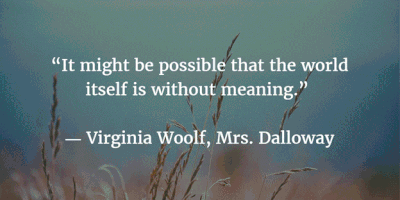 Bearing in mind the carefully plotted, character driven, traditional 19th century novels, such as those written by the Bronte sisters, Mary Shelley, or even George Elliot, Mrs Dallaway, represented a significant turning point.
Virginia Woolf initiated an innovative approach to the novel in the early 20th century. The novel no longer adhered to a strict timeline and tight plot, instead, the narrator could wander wherever his/her mind went.
Now I'm going to jump forward to the 21st century. It's 2016 and we have another major and innovative Stream of Consciousness novel by Elizabeth Strout, called, My Name is Lucy Barton, which I discussed amply in my blog yesterday.
This fabulous, stream of consciousness novel, takes Virginia Woolf's approach even further. On this occasion, there is no plot at all, very little by way of characterisation and a disjointed timeline with erratic flashbacks and forwards, and some unsettling hospital visitors, while Lucy is in a hospital bed, recovering from an unspecfied illness.
Lucy should have read Camus or Sartre, they would have told her that her futile and obsessive search for the meaning of her life, was doomed to bring her distress, because there is none. The only solution for Clarissa and Lucy, and all of us, is to accept the fact that life is absurd, and still find reasons to be happy.
Life isn't always fair, random events occur, sometimes bad things happen to good people, and bad people get away with murder. We don't choose our parents, our country or place of birth, our language or religion, and so many other things which shape our lives, and yet, there are still plenty of things we can choose and change.
I enjoyed reading both novels, but I have no sympathy for either Lucy or Clarissa. I suggest they stop blaming others, i.e. their childhood, parents, nationality, religion, politics, society, etc. for their problems.
It's up to each one of us to decide what we're prepared to accept and what we're prepared to fight to change or rebel against.
So, do you enjoy reading stream of consciousness, almost experimental, literary novels, which explore a character's psyche intensely, but have little by means of a traditional plot or timeline?